Uproot Food Collective
Disrupting the food industry from the bottom up
When you've worked really hard to build your farmers market or commercial kitchen business and you have a drive to take it further, what do you do? How do you get a meeting with a big supermarket? Where do you go to get more production capacity, a bar code, a nutritional panel? Is your packaging compliant with CFIA regulations—what does that even mean?

Background
in a nutshell
Uproot Food Collective is a food accelerator based in Edmonton that started out with two expanding producers facing the challenging leap from farmers market to supermarket. With a purpose to help like-minded entrepreneurs take that next big step, the owners put their heads together so that the collective group could share costs and sell to grocery stores under a single banner.
Uproot moved their model from retail distribution to direct-to-consumer when covid hit, as retail refused to take on additional products.
Aside from helping other food-based companies get to commercialization, Uproot is here to disrupt the food industry from the roots up.
Insight
executing the brand
Using our insight, we created the Uproot name and soon after the comprehensive brand. Not just a logo or wordmark, but an integrated framework rooted in a foundational brand platform including their vision, promise, positioning and purpose, and a strong set of visual elements. This was translated across multiple touchpoints including the unique bottom-to-top design of their website.



The work
social support
ZGM supported the launch by setting up Facebook and Instagram advertising creative that talked to the nature of the store, and the timing where the world was turned upside down.
Utilizing existing email addresses and Facebook's like audience functionality we launched awareness advertising as top of funnel, product specific advertising to those who had visited and not purchased. Bottom of funnel ads were crafted for those who had placed product in cart and existed without purchasing.
watch video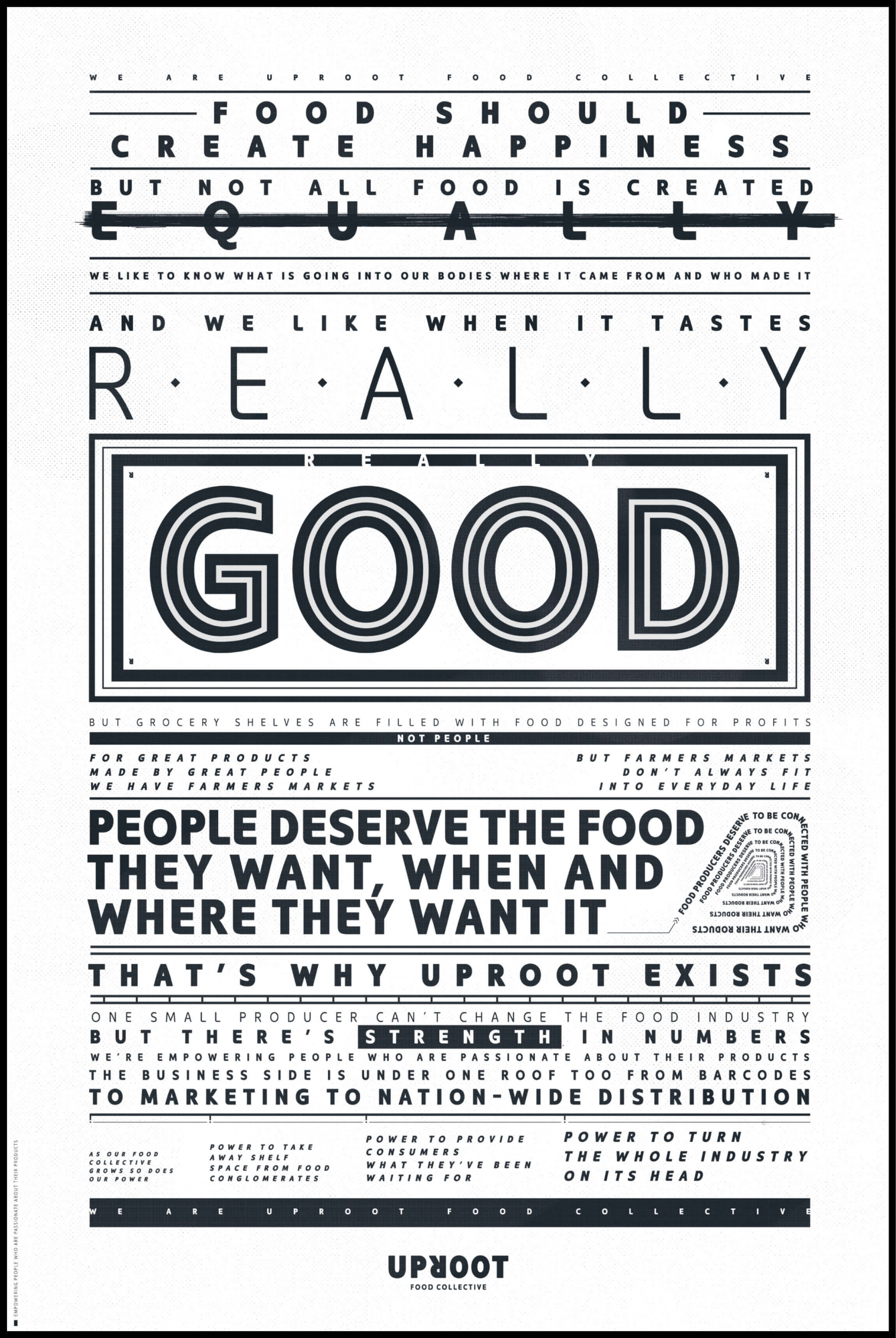 The work
it's all about the roas
ZGM continued to support Uproot with evolving creative, boosting of organic posts, and increased media spends as ROAS (Return On Ad Spend) ranged between $3.5 and $5 per dollar spent, with peak periods hitting ROAS of $11 – $15 during sale periods. These ROAS results created profitable first baskets for new customers.
Further support and consultation on Uproot's CRM created returning customer revenue in excess of first purchase utilizing segmented email lists and product specific promotional items.
We do alot of this.
We spend a lot of time working in food and beverage marketing. Come take a look.
see our experience