Alberta Women's Health Foundation
Focus on the research
The Royal Alberta Hospital Foundation came to us to launch a brand-new, province-wide fundraising entity, the Alberta Women's Health Foundation. The launch was scheduled for International Women's Day, and would continue through to Mother's Day and beyond.

The challenge
male-focused testing
Women's health research has been drastically underfunded worldwide—in Canada only 8% of all health research funding goes to women's health. Only as recently as 20 years ago have women been included in health research as subjects, meaning that much of the drug, symptom-spotting, and other health information we have is entirely based on men's bodies. This historic inequity results in poorer health outcomes for women, and AWHF is dedicated to balancing the scales.

The goals
shouting from the rooftops
Our campaign was primarily awareness based, introducing this new organization to Albertans. Our goal was to reach as many Albertans as possible, while making them consider women's health inequality for, perhaps, the first time. Our secondary goal was to acquire a few donors along the way.


The insight
it's what's inside that counts. literally.
Billions of dollars are spent marketing and researching makeup, skin care, clothing, and even surgeries focused on the outside of women's bodies. We decided to use the style of beauty advertising to refocus on the inside of women's bodies, addressing the difference between what's invested in women's appearances versus what's invested in their physical and mental health.
We targeted socially conscious Albertans who already had some affinity for feminist topics to make the most of our limited budget. With this, we also aimed to raise awareness in a group of men and women who were already inclined to lend their support.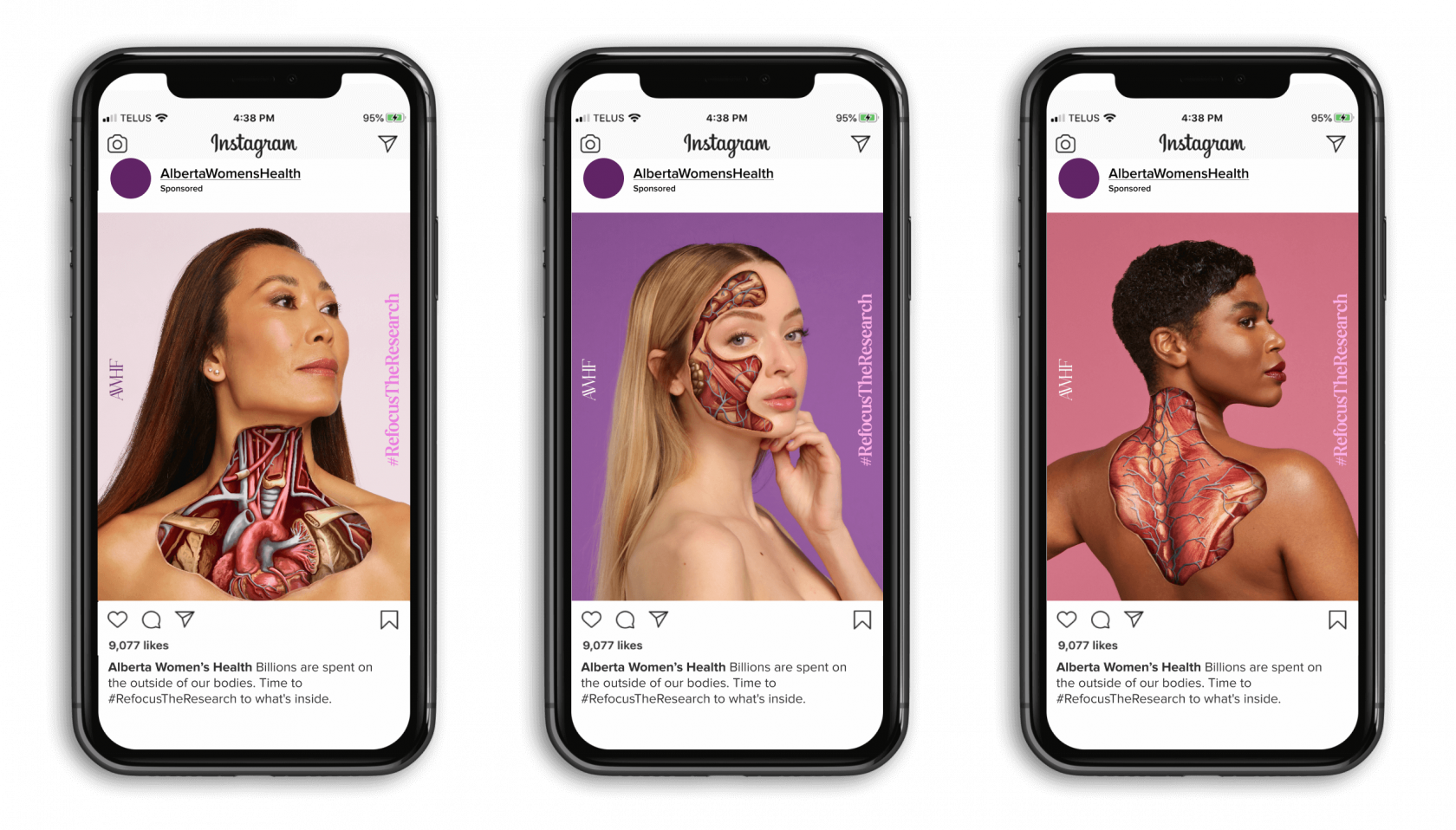 The work
reimagining
mother's day
On a non-profit budget, our campaign was digital-first, relying mainly on social media, influencers, and display advertising to educate and inform Albertans. (Although we did get some generously donated billboards from our media partners.) We used Pinterest, Facebook, and Instagram to introduce Albertans to some eye-catching images under the campaign line Refocus the Research. In May, we added a Mother's Day component to the mix, reimagining superficial Mother's Day presents as life-saving medical advancements.