Government of Alberta
Covid Loves
Albertans were becoming immune to Covid messaging, so we personified Covid and held a mirror up to their behaviours.

THE PROBLEM
the wrong immunity
Over time, a growing segment of Albertans were becoming immune to public health messaging. Research showed that nine months into the pandemic, with numbers rising, compliance with safe and healthy behaviours was slipping—as was trust in health-related information.

THE CHALLENGE
stop 40 under 40
The majority of us don't deliberately set out to the break the rules. However, nine months into an unrelenting pandemic, research was showing that fatigue and complacency were setting in. Public health messages were not always seen or trusted. We set out to create a culture of consistent compliance and influence the behaviour of Albertans under 40 to stop attending and hosting public gatherings.
THE INSIGHT
By personifying the Covid virus, we were able to hold a mirror up to show how the current behaviour of some younger Albertans was increasing community spread.

THE WORK
introducing Mr. covid
The strategy of this campaign was rooted in its context amongst all the other Covid-related communications the Government of Alberta had in-market during this time. Once personified, the situations that Covid Loves became endless and the campaign extended into game nights, first dates, brunch, and more. We then got to work creating Mr. Covid—working with a local special effects company to create a Covid mask that was equally terrifying and approachable. The rest of the character was intentionally made to look like an 'every person'—dressed exactly like you or me.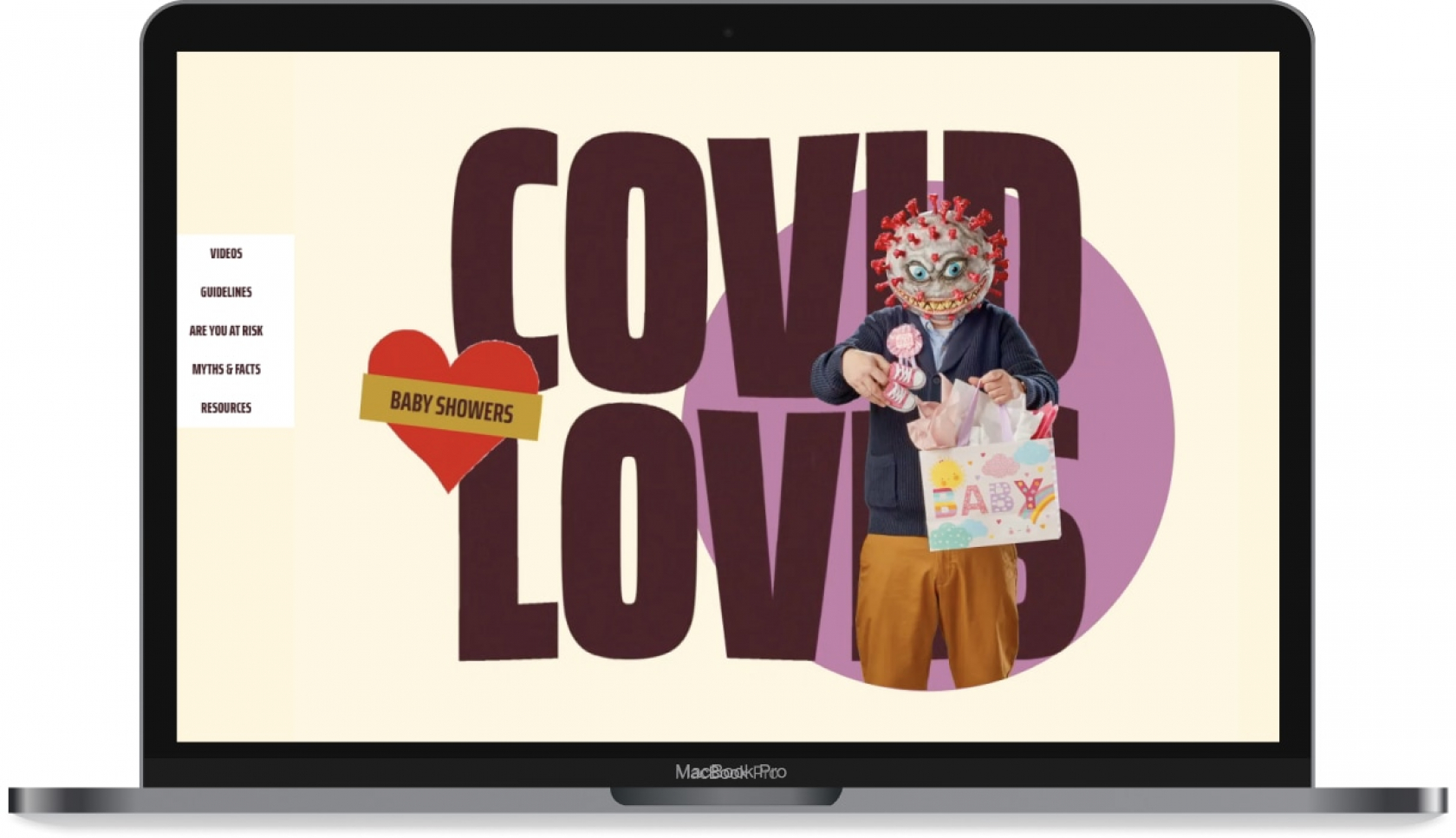 ONLINE
covidloves.ca
We wanted to make the Covid guidelines and health information as accessible as the creative itself, so we made the decision to develop a campaign-specific landing page instead of sending our audience to alberta.ca.
We do a lot of this.
We spend a lot of time working with social behaviour change organizations. Come take a look.
see our experience